I really like to draw out my designs with pencil and pad. I cant say I am an artist since most designs come from pictures I see and stuff I can find online. Normally I start with an idea of a location or a character, or anything that comes to mind. I do research online about when it was first started or invented. I find as many pictures as I can, then I choose what parts would look best on a penny and I start to draw. Sometimes using bits and pieces from many pictures. Once I have the design done, I have to choose a font for the wording. That can sometimes take longer as the fonts don't always look right. Once that is complete, I have my sketch ready. My first 4 designs were made for a Commercial Machine which is located at Fresno Coin Gallery in Fresno, CA. Sadly the Company who manufactured the machine also did the artwork and it was extremely poor engraving.
I have 12 Designs done so far, but have only 6 engraved. The 4 from Fresno and the two I will show you below.
First I have the Pennsylvania Railroad EC. Which was sent out in The Second Newsletter of 2009. I truly enjoy train EC's, and there is such a different variety of the styles of engraving done on them. But I decided to do an EC on a Railroad Company instead of a specific model of Train. The Pennsylvania Railroad has a very unique logo as it looks like the Top Part of a Steam Locomotive. When I saw that it just popped into my head that if I added the bottom half of the Locomotive to that it would just be a great design. I did the research and found out when the Railroad Company was first founded and then started drawing. I am posting the original artwork, along with the rendering that Jim Kilcoyne sent to me.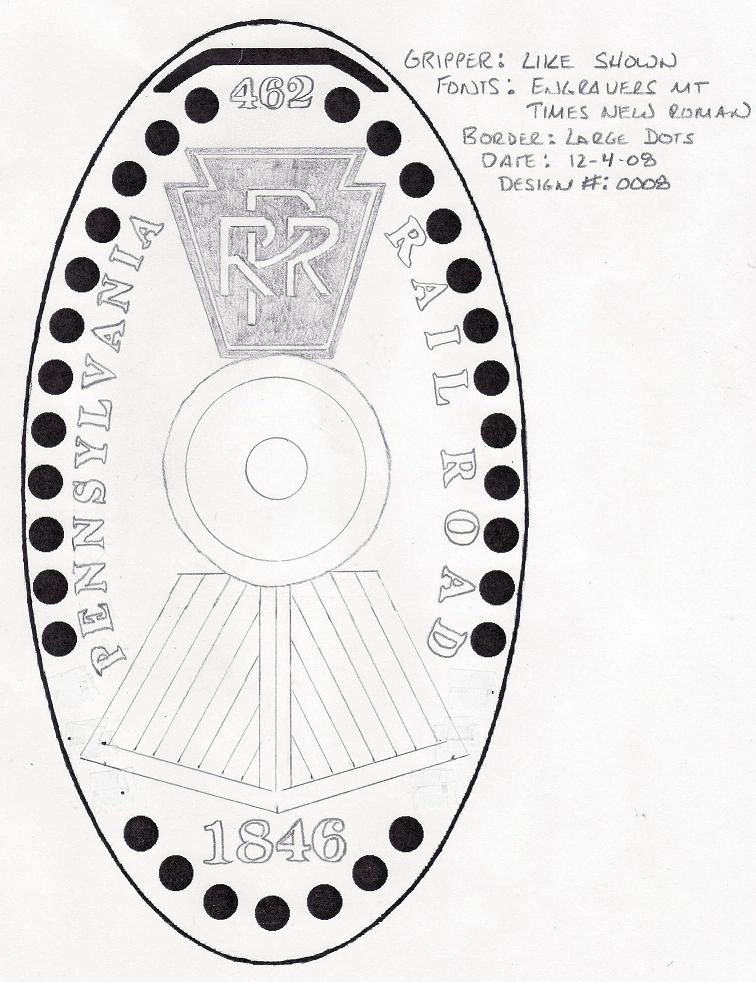 As you can see I add notes to the design so I can remember which fonts I want, and the date I completed the drawing. I even put how I want the gripper and the border. As you can see below Jim Kilcoyne did a fantastic rendering of my design.
The second design I have to show you is quite a bit different. I borrowed some designs from the some of the best modern engravers known. As this years ANA will be held in Los Angeles, CA which happens to be my home town (Well actually I live 10 miles north of Downtown in the little city of Tujunga, CA.) But I just knew I had to design an EC for the TEC Meeting on friday. I thought long and hard and came up with the obvious conclusion that it had to have an Owl, it had to say Los angeles and something else that was catchy. I also wanted to take a page from Nina MacDonald and Rob Morris and make it a Shadow Coin. Both designers hold an annual meet in their home states. They also create these beautiful Badges that have a design you can roll on a penny as well as a quarter. But if you roll it on a quarter you will get more of the design. I thought I would go one step further and design one with a penny design within a quarter design within a half dollar design.
What I came up with in the end I thought was a bit much, but decided to go with it as it just looked right. This time I decided to have my design digitized by another collector and friend in Missouri. I was introduced to Paul Conner through Carol Hursh, even though I had previously traded with Paul I had never met him and seen some of the stuff he could do. Below is my original sketch.
I was lucky enough to be working there in Kansas City for a little while, and we had talked about him doing the rendering. So I sent him my sketch and pictures of the two coins (One from Lloyd Wagaman and one From Adam Cool) to show exactly what I was going for. Over the next week he sent me updates as he did the digitizing. About mid week I realized that I had made a huge error in my design. As you see above I had put in Celebrating 45 Elongated Years. It is really 43 years. But as you will see below he was able to change that for me and save me much embarrassment. His final rendering made me extremely happy as I could not even draw the rays that you see coming from around the owl. Those rays are from a design Lloyd Wagaman created and if you notice the scroll work on the outside of the design that was from Goose in Flight by: Adam Cool.
I will be attending the show in Los Angeles and hope to see many, many people who I have traded with and have come to know as friends there. I will be setting up my machine there for members to come and roll pennies, quarters and half dollars. I will have some special pre-rolled quarters and halves that will have the raised reverse. I have chosen to do them on the Bicentennial Quarter and Half. Those will be limited to what ever I can get together and cleaned. But I will have those available for Attendees who want it on those. But please do feel free to bring any types of coins you would want it rolled on. I will do the same as Ray Dillard does at the TEC booth. I will roll anything that will fit into the slot... I cant wait to see you all there!!!